2012 Malaysian Camporama: The Super Bowl of Camps
By Kedric Kwan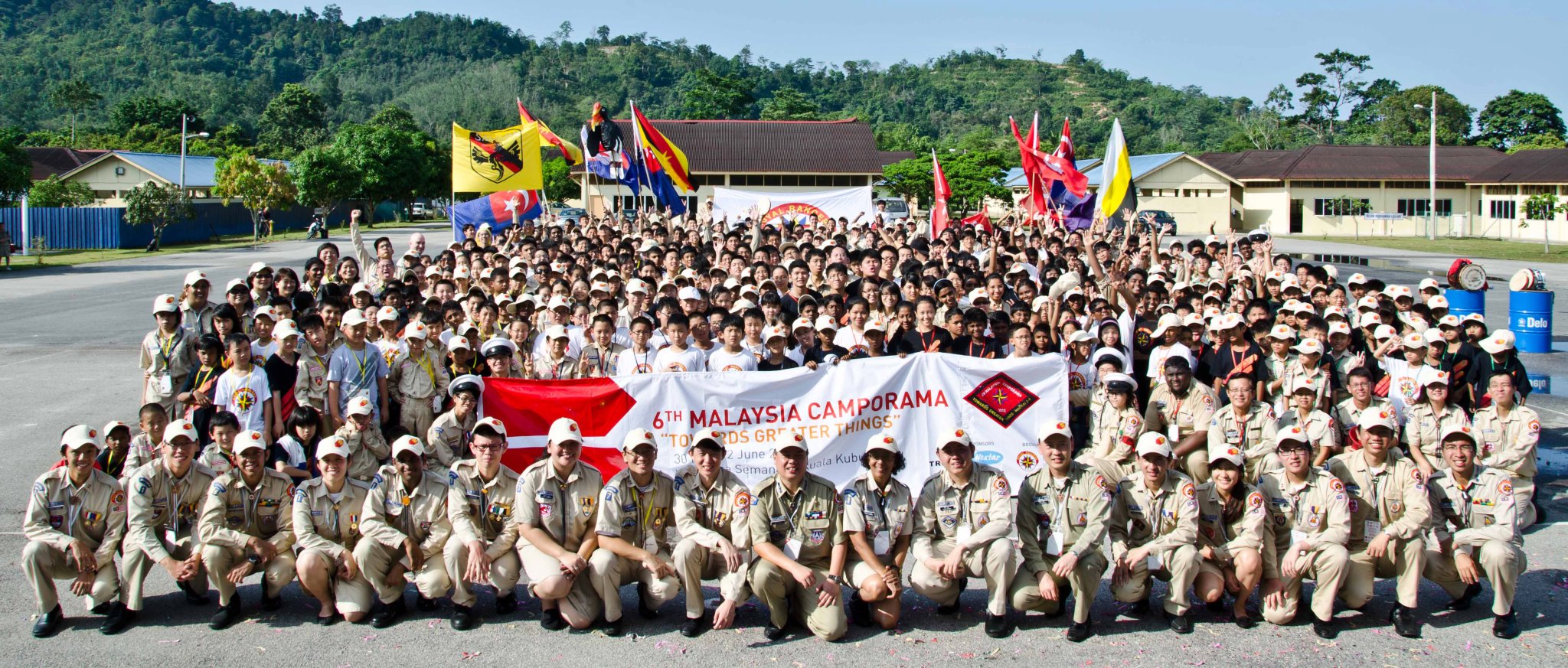 Buses filled the open space as people started walking out with their bags in tow. Voices boomed and greeted them over the loudspeaker. The atmosphere felt like the finals of a college game, but this event is bigger than any college finals one would attend. This is Camporama 2012, the Super Bowl of all camps! Camporama was held in conjunction with the Royal Rangers 30th anniversary in Malaysia, and it was a bigger, better, and more awesome experience than any previous Camporama.
Outpost commanders did not allow time to slip by as they gathered their Rangers and led them to their respective dormitories. Lunch was next on the schedule. The canteen was filled to its seams with a crowd of more than 600 campers between the ages of 9 and 40 years old! As soon as the Rangers settled down, the camp committee was introduced. This year's camp commander was Commander Nathaneal Ho from Outpost Selangor 7. With enthusiasm, he welcomed the campers and encouraged them to believe God for an encounter at camp, reflecting our theme, "Toward Greater Things." Excitement was building as the camp commander introduced the four main cities (groups) at Camporama: Kelantan, Perak, Sarawak, and Johor, each a state in Malaysia. As each city mayor (group leader) took the stage, loud chants, songs, and yells echoed. The atmosphere was electric, and it was just the beginning.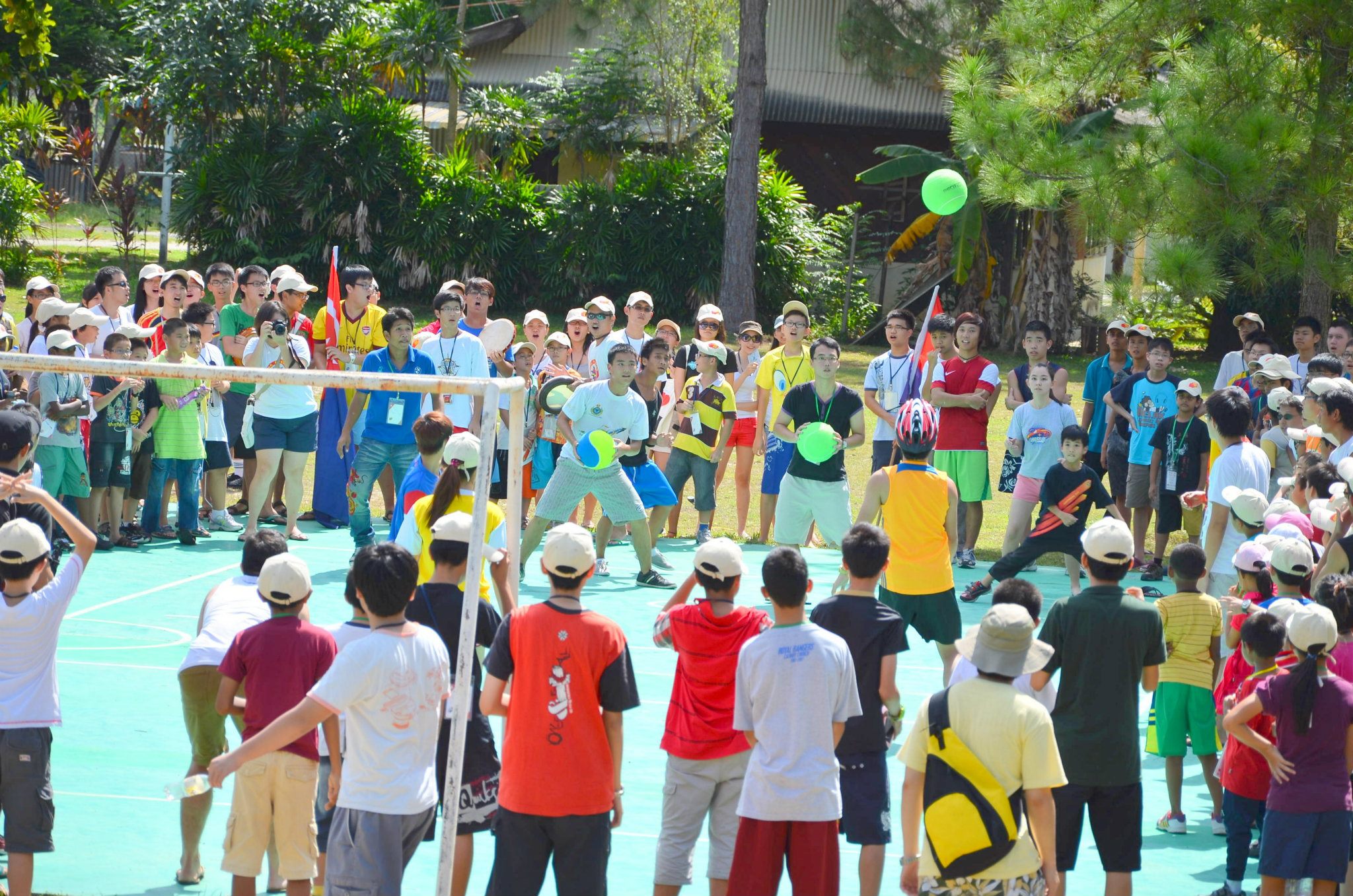 The first major highlight was the intercity dodge ball competition. Each city deployed their six finest dodge ball warriors, who were then placed inside the battleground to fight until either one man was left standing or time ran out. As the battle began, cheers from supporters could be heard while the warriors played with intense vigor, darting back and forth avoiding the ball. Only the best survived, and what was left was a faceoff between Team Kelantan and Team Johor, while Team Sarawak and Team Kelantan battled it out in a separate arena. The fight between Team Johor and Team Kelantan was straightforward, with victory going to Team Johor. However, Team Sarawak engaged in a fierce battle with Team Kelantan—both sides displaying strong spirit—but triumph went to Team Kelantan. The final battle was fought, and the tides turned with Johor (the underdogs) wearing the crown of victory in the end, reminding me of David taking Goliath down.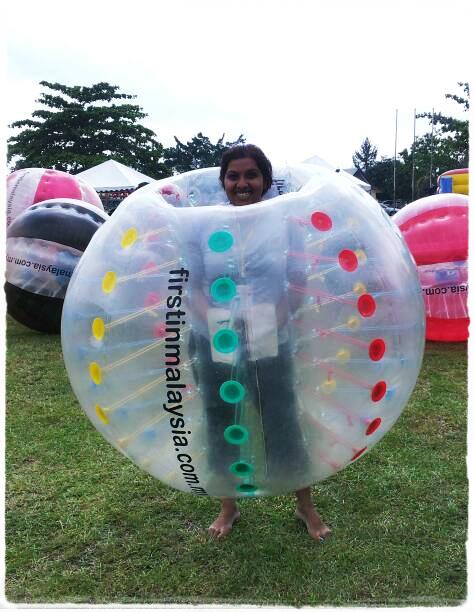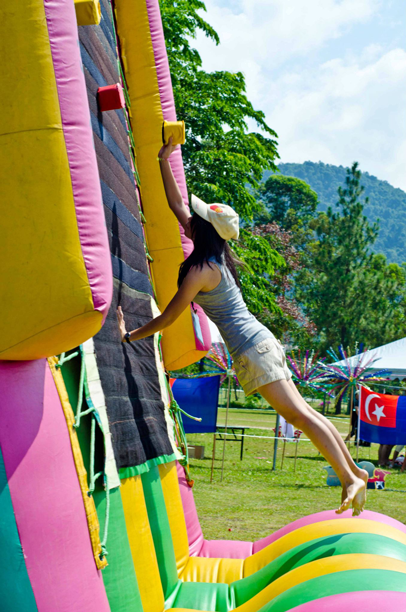 Much remained to do, and there was no time to waste. The campground was filled with numerous activities such as the flying fox zip line, rappelling, KMX bikes, horizontal bungee, bump-2-bump (playing soccer in a bubble suit), and sticky-wicky-wacky (a tall, inflatable bouncy tower with Velcro strips and Velcro cubes to attach on). This was the ultimate playground for adventure sports! Carnival game stalls were set up in classrooms for campers to test their skills at bowling, stacking, balancing, and shooting. The game stalls gave campers a chance to set their own record time and compete against the best record time. Each winner then received a prize.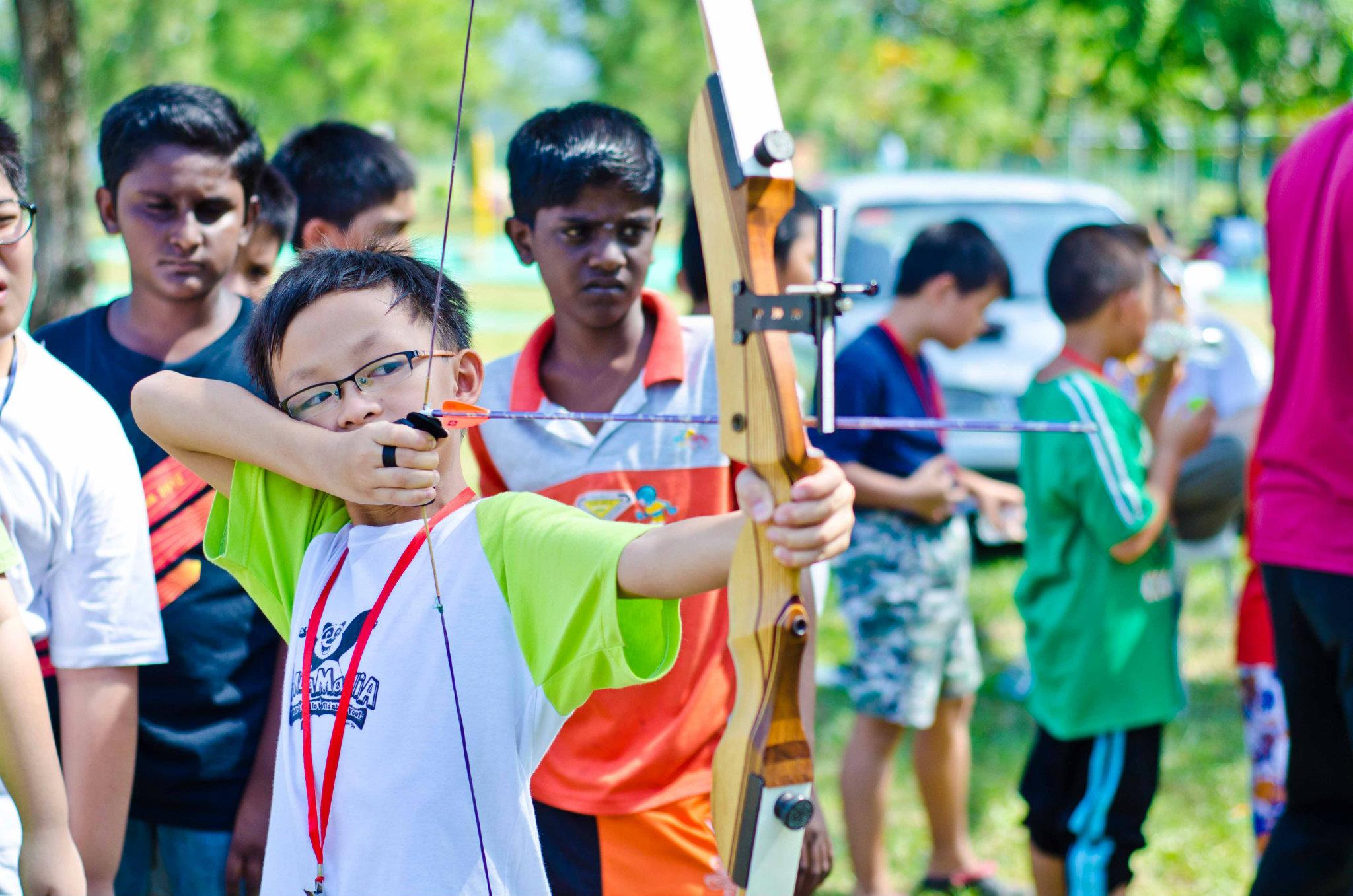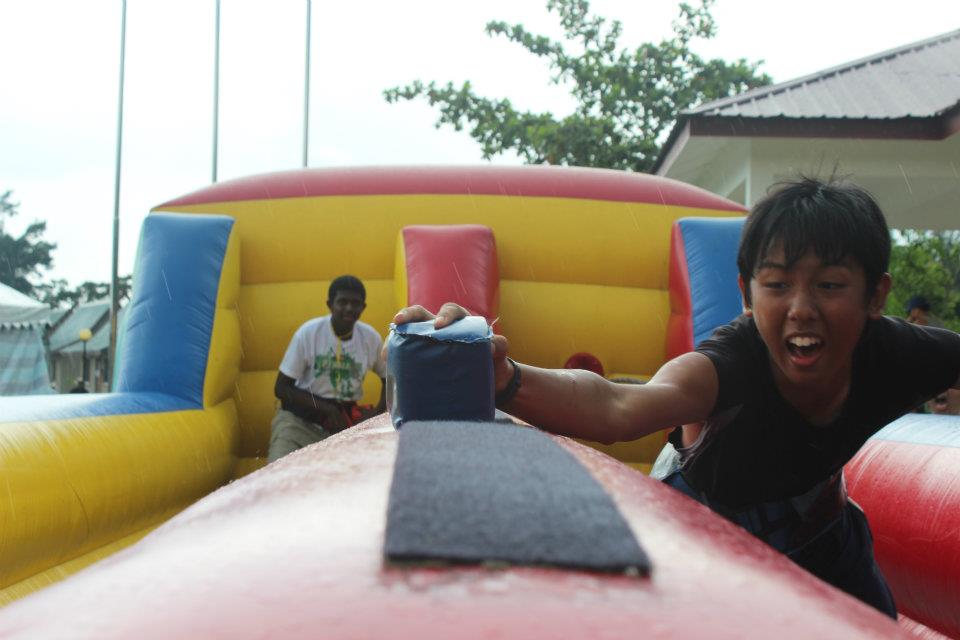 As an effort to grow and build team spirit, each city was tasked to replicate features of the state they had been assigned to and build a "city." Each city would include games, food, crafts, and cultural elements. Each city was given a time and day when the campers would be welcomed to enjoy the festivities. Johor and Perak were the first two cities to be opened to campers. Those who visited Johor were greeted by the "Sultan" himself and given the opportunity to witness the local horse dance known as
Kuda Kepang
. The younger campers could be seen kicking a rattan ball in the air using their feet, a game known as
sepak takraw
.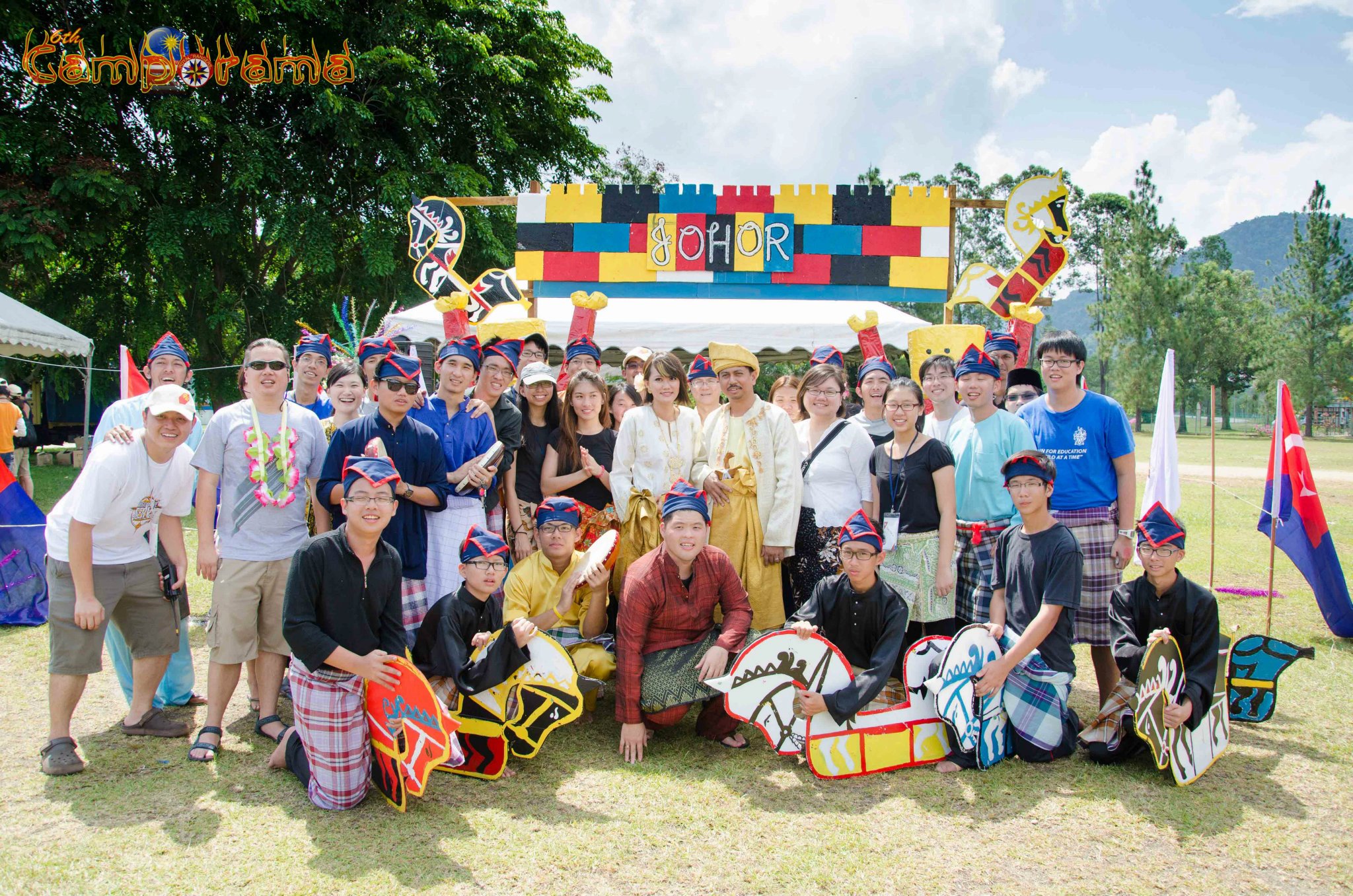 Perak was, however, a different city. Campers first entered through a cave known as Gua Tempurung, which led into the city. As soon as they got past the cave, an aroma filled the air, tickling the nostrils and causing stomachs to growl. Campers followed the aromatic trail to a makeshift kopitiam (coffee shop). The atmosphere was robust. Waiters dressed in shabby T-shirts and the famous white waist aprons whizzed around getting food orders. Campers satisfied their cravings with chee cheong fun (rice flour rolls with thick, black sauce) and the ever-famous Ipoh white coffee. One could momentarily forget that they were actually at camp instead of old town Ipoh.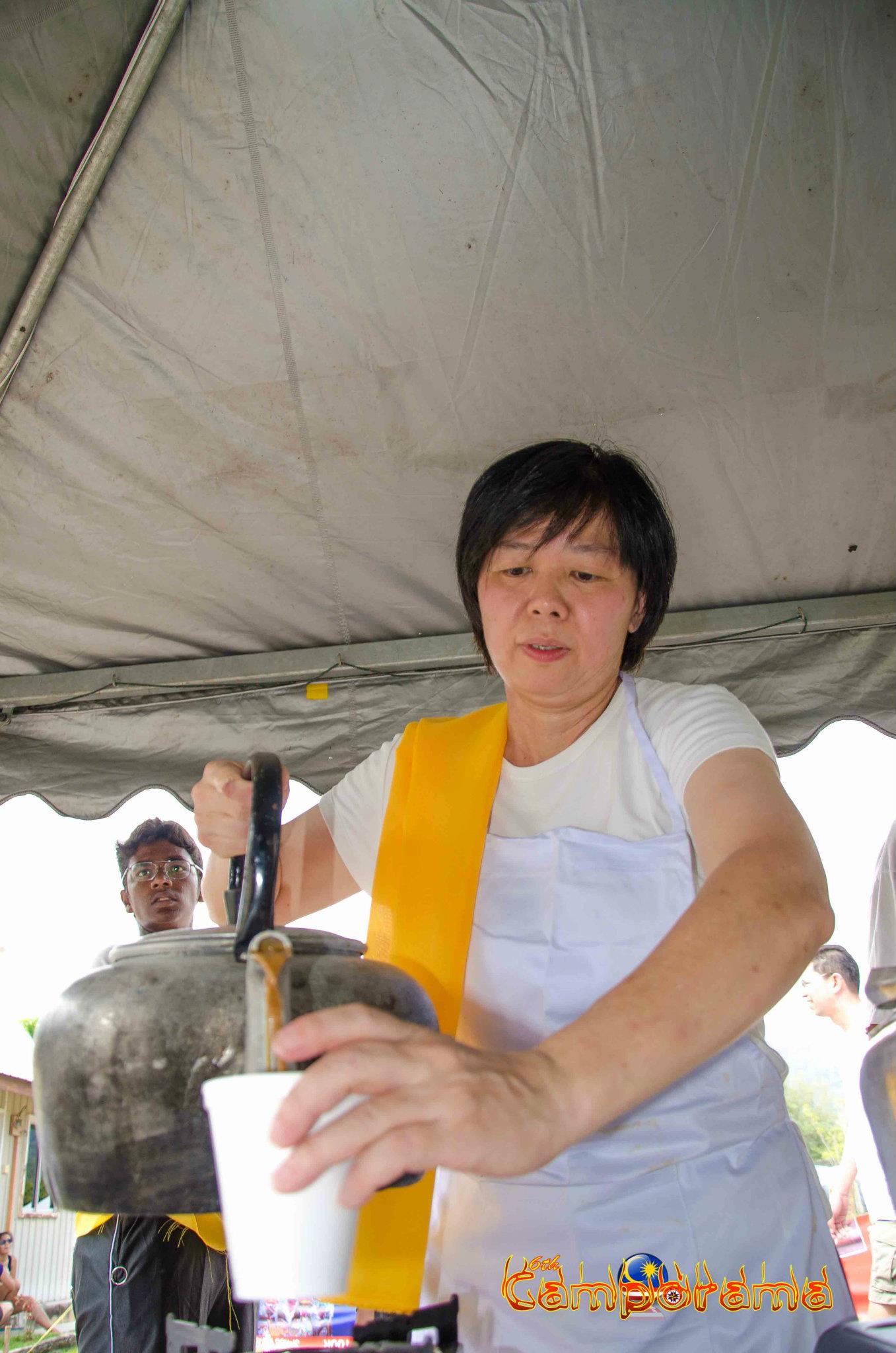 The following day Sarawak displayed their local culture with a pompous introduction of their city mayor, "Raja Kenyalang." Pretty Iban and Melanau girls greeted the campers while strong warriors guarded the city. Campers were given a chance to learn the traditional bamboo dance, try out the blow pipes, and eat live sago worms (not for the fainthearted). If campers came at the right time, they would land a chance to witness the battle between James Brooke and Rentap followed by a traditional Sarawakian dance. The spotlight, however, went to the longhouse that was erected from the ground up. This was where the Raja Kenyalang greeted his guests with colourful layered cake and iced tea.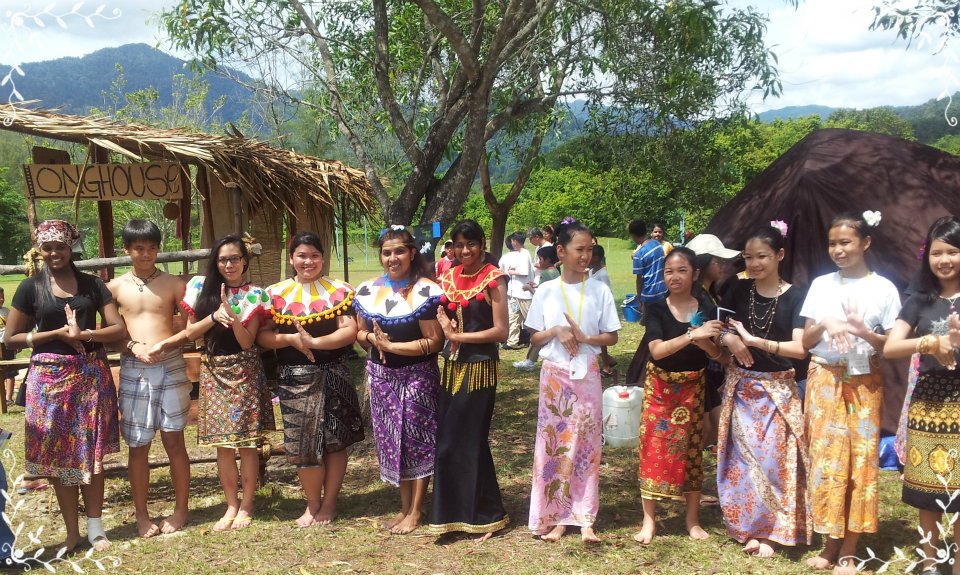 Kelantan,
the last city to open, did not hold back on grandeur. The city was decorated with a dock and two boats, a boxing ring, a traditional food market, and numerous game stalls. Campers from Kelantan were decked with beautiful Malay costumes. If campers visited at the right time, they could witness a nerve-wracking kickboxing match. What really attracted the campers was the scrumptious array of food, from freshly barbecued chicken to fried fish fritters to delicious desserts. The city was abuzz! Throughout the entire camp, yells and cheers from every different city could be heard, and many campers left camp with lost voices but with the tunes of the song and yell ringing clearly in their heads.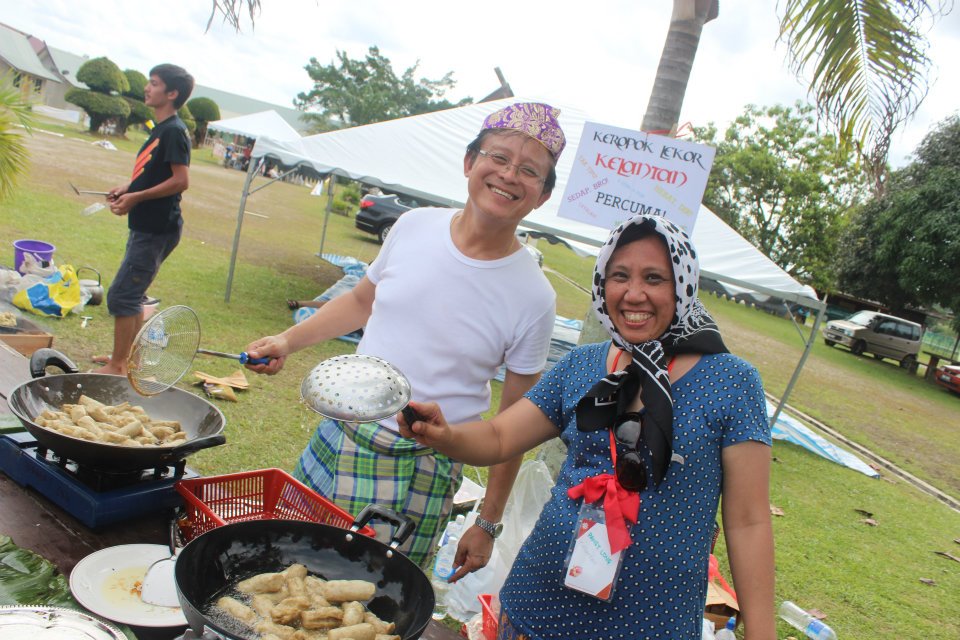 Camporama is never complete without a chance to encounter God. The rallies were held in a nearby hall, and as the campers filled the hall, so did the presence of God. The worship team led the campers into a great time of worship, giving the praise to our God, who deserves nothing but the best. This year the message was shared by Pastor Daniel Ross. His message touched the hearts of many, reminding them that we must not be entangled by the things of this world if we are to run the race for God. He reminded us that David didn't run from his problems (Goliath); instead, he faced them and overcame them (with God's help). He also shared his personal story of how his life as a teenager was a mess. He dealt with drug addiction and smuggling, rowdy fights, and even spent some time in prison. If it wasn't for Jesus, he said, he would still be leading an insignificant, wasteful life. He spoke of how God redeemed him from his old ways and can redeem us in the same way. It was a reminder of God's hand not being too short to save us: even if we're in the deepest pit, He is just an arm's length away. The night rallies saw many giving their lives to God, allowing Him to write their destinies, and some even obeyed the call to full-time ministry. The presence of God was evident at camp, and if it were not for our Saviour, this camp would never be a success.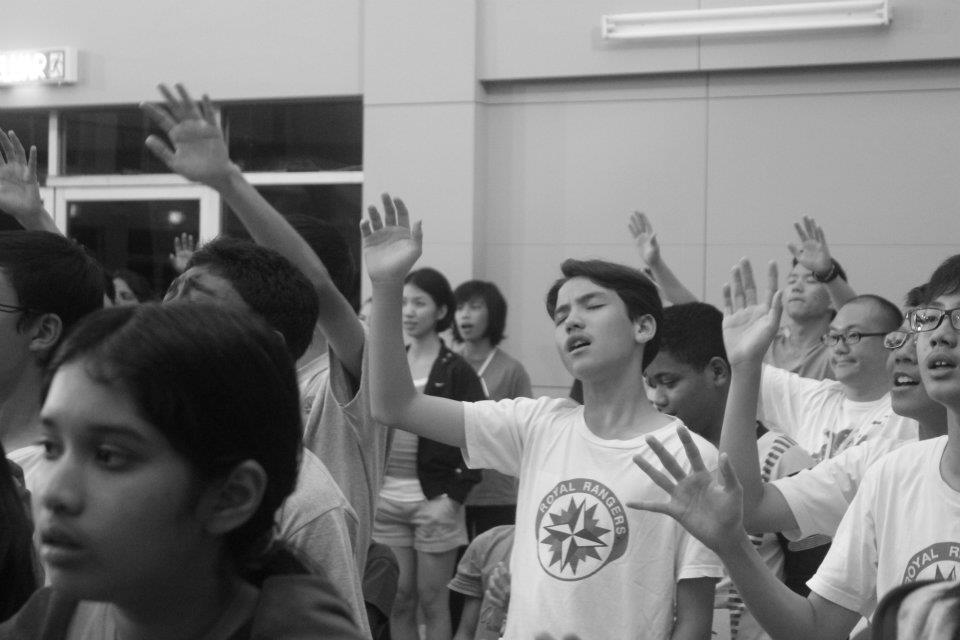 Writer's personal note:
As a commander who grew up in the Royal Rangers ministry, I am thankful that I was part of this camp. I am sure campers left with new acquaintances, tired bodies, nostalgic memories, and most importantly, a touch from God. I can account for it because I felt the exact same thing. It was a blessing to be at Camporama 2012, and without God gracing this camp with His presence and the passionate spirit of the campers, this camp would have just been "yet another camp" instead of "the camp." Let us together pursue Greater Things!