How to Have Eternal Life
The most important thing Royal Rangers seeks to accomplish is to help people come to Jesus Christ as the forgiver of their sins and the leader of their lives. Jesus himself called this being "born again." The Bible teaches that taking this step is the only way to make it into heaven. In fact, the Bible teaches us many things about becoming a Christian.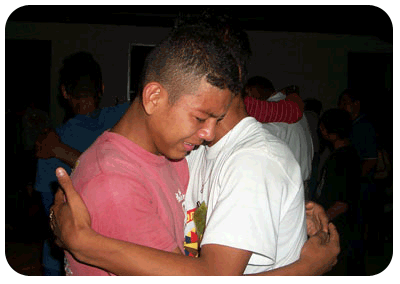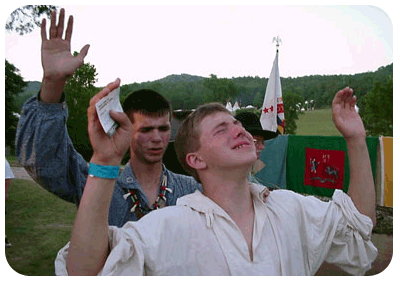 All Men and Women are Separated From God by Sin
Romans 3:23
- For all have sinned and fall short of the glory of God.
Romans 6:23
- For the wages of sin is death, but the gift of God is eternal life in Christ Jesus our Lord.
Christ Died For You So That You Could Come to God
1 Peter 3:18
- For Christ died for sins once for all, the righteous for the unrighteous, to bring you to God. He was put to death in the body but made alive by the Spirit
Romans 5:8
- But God demonstrates his own love for us in this: While we were still sinners, Christ died for us
You Must Repent
(Turn away from your sin and turn towards God)
Luke 13:3
- But unless you repent, you too will all perish.
Acts 3:19
- Repent, then, and turn to God, so that your sins may be wiped out, that times of refreshing may come from the Lord.
You Must Believe
Romans 10:9-10
- If you confess with your mouth, "Jesus is Lord," and believe in your heart that God raised him from the dead, you will be saved. For it is with your heart that you believe and are justified, and it is with your mouth that you confess and are saved.
John 1:12
- Yet to all who received him, to those who believed in his name, he gave the right to become children of God.
You Can be Assured of Your Salvation
1 John 5:11-13
- And this is the testimony: God has given us eternal life, and this life is in his Son. He who has the Son has life; he who does not have the Son of God does not have life. I write these things to you who believe in the name of the Son of God so that you may know that you have eternal life.
2 Corinthians 5:17
- Therefore, if anyone is in Christ, he is a new creation; the old has gone, the new has come!
Taking the Next Step
God loves you very much and he would like nothing more than for you to become a follower of his son, Jesus, right now. It is not difficult. In fact, there is nothing you can do to earn salvation. Jesus has done the work for you by dying on the cross for your sins. No matter what you have done, Jesus wants to make you a new person. All you have to do is ask him.
Right now, in your own words, ask God to forgive you for all of the bad, sinful things you have done in your life. This is called confessing your sins. Then ask Jesus to become the leader of your life, to make you a new person and to guide and shape you from this moment on. Finally, thank God for loving you enough to not give up on you, but to make your salvation possible through his son, Jesus Christ.
Congratulations! If you really meant what you prayed, then the Bible tells us that there is a celebration taking place in heaven right now in your honor. We would love to celebrate with you, too. Call toll-free: 1-800-4-PRAYER. A counselor at the Assemblies of God National Prayer Center is standing by to pray with you right now.
Since you have made this life-changing decision, it is very important to take some practical steps that will help you to build your new faith. They are:
Pray every day-It's not fancy, just talking to God like you would your best friend.
Read the Bible every day-Get a version you can understand and start with one of the Gospels, like Mark or Luke.
Get involved in a local church-God intended for us to help one another as we lead a Christian life. Use this link to locate a church near you: http://ag.org/top/church_directory/
To start growing in your relationship with Jesus Christ, check out this link: http://www.followchrist.ag.org
May God richly bless you!