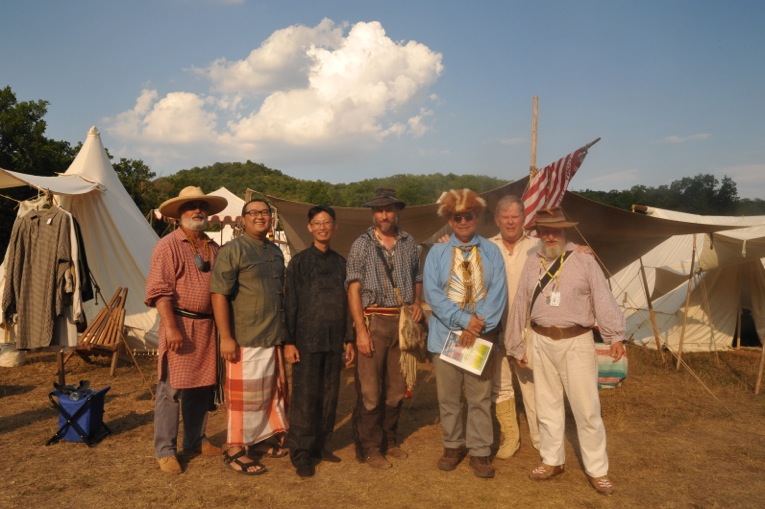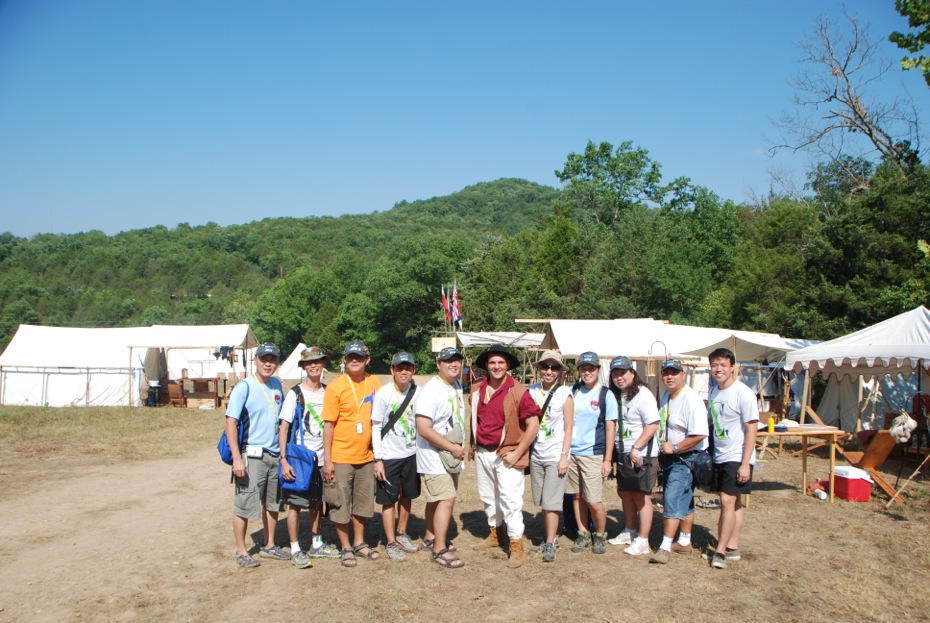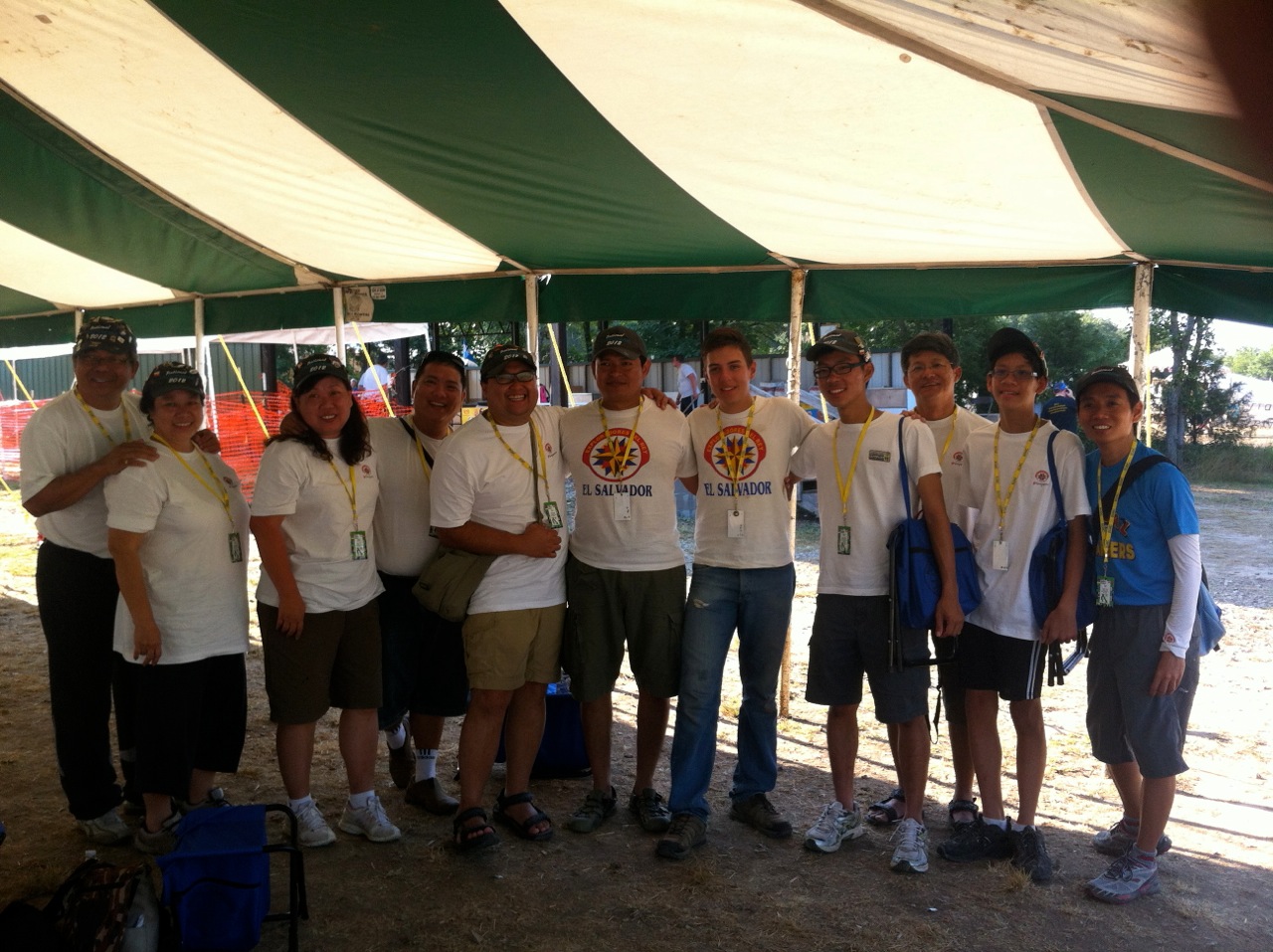 An International Flavor at National Camporama
Royal Rangers International (RRI) hosted 163 international delegates from 28 countries at the 10th Royal Rangers National Camporama held July 9-13, 2012 in Eagle Rock, Missouri. International delegates handed out the RRI pin set, traded pins, played soccer, stamped Camporama booklets and made new friends.
For many of the international delegates attending National Camporama was the fulfillment of a desire that began when they were young. Here is what some of the delegates had to say:
Camporama 2012 was certainly a highlight in my life as I had always wanted to attend one since I was a young Ranger. The atmosphere and activities of Camporama was really fun and exciting, yet the most important thing I gained was the relationships and seeing the difference Royal Rangers can make in the lives of the youth. The connection with many US Royal Rangers has given me a deeper understanding of the culture and vision of the RR ministry.
I saw dedicated leaders who were doing things beyond expectation and lovingly mentoring and praying for their young people. I was touched at seeing young boys praying for each other and their commander during the night services. It was great to see commanders sharing teaching moments at every opportunity around Camporama.
Even as a commander, the messages of the night services impacted me. I realized that God still continues to work on our lives and we need to be ready for him to work in us. Our desire for an adventure with God, building our character and accepting the task he has for us is a life which many young people need to see in action and the commanders should be living this life and showing the way. I am challenged to continue developing my own character and relationship with Christ so that I can be greatly used through the Royal Ranger ministry to impact the future generation of leaders.
~Erwin Chan – Singapore~
-What was your most memorable experience at Camporama? Why was it so memorable?
I read about the Eagle Rock Camp in the High Adventure magazines when I was growing up as a boy in Royal Rangers and always wanted to see it for myself. In conjunction with the 50th Anniversary celebration, it was a good opportunity for me to check out Camporama as well to see how things are run for a camp of this size. I met some great leaders from the US as well as the international representatives.
-Do you have any funny stories of a cultural difference between your country and the USA?
An American boy saw me carrying the Malaysian flag as I was going for the international parade rehearsal and asked, "How do you get one of those? Wanna trade?" I guess you could trade anything at Camporama in the US.
-Do you have a short testimony of something God did while you were at National Camporama?
I thank God for His protection on Thursday morning whilst taking a ride on the tram to breakfast, the driver lost control when heading down a hill and the tractor-tram jack-knifed. My left foot was struck by the front wheel of the tractor but I got off with just some bruises. Survived the ride!
~Eddy Law – Malaysia~
What was your most memorable experience at Camporama? Why was it so memorable?
My most memorable experience was just being there. I've wanted to attend one since I was 9 years old and first heard about it. But then there was the whole issue of money and school and things like that. I missed 2006 because I didn't have time to plan. But when the 2012 one rolled around I promised myself that even if I had to get out on the runway and hitch-hike I would be there.
Do you have any funny stories of a cultural difference between your country and the USA?
Slightly funny I guess. But I was a tiny bit surprised at the amount of love and hospitality you treated the RRI guests with. Our country/ies, our economy is tourist based so treating guests with kindness is what you are trained to do from when you are little. But getting that same level of care over there was amazing.
Do you have a short testimony of something God did while you were at National Camporama?
One thing God did for me was re-awaken my love for Christian music. I grew up on hymns and choral music and as I became an adult that burned me out on gospel. (At least traditional black gospel music) But Brenton Miles' performances were refreshing. And now "Jesus, you're all I need" is stuck in my head forever.
~William Lightbourn – Bahamas, Turks & Caicos Islands~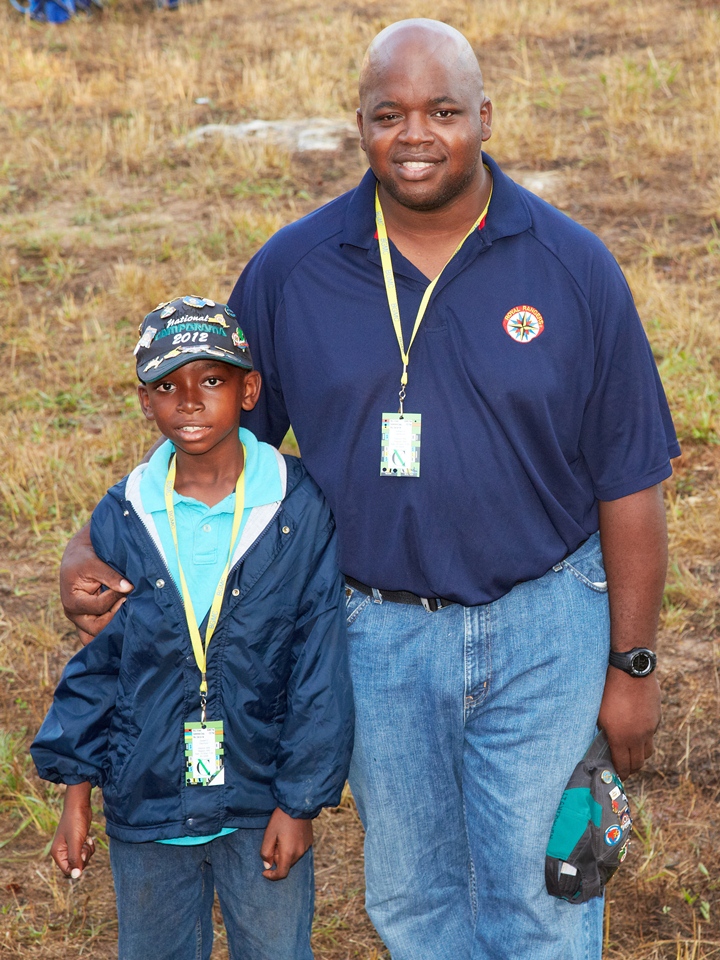 To me, the most memorable experience was the priceless encounters to meet up with so many Rangers and commanders of the US and have everyone warmly greet each other and for us to be welcomed. After I volunteered for a session to help in the main snack bar, it was an amazing feeling when we went about thanking each other for helping out and a US commander commented that Royal Rangers have universally the same spirit and there are so little barriers despite our difference in culture and nationalities. Someday when we meet up in heaven, I'm sure it'll be a blast like it was in Camporama.

The only humourous cultural difference that I encountered was during the meal times. Often we would go about asking if individuals sitting about or milling around were in the "queue" and often I had a blank response. It was only in day 2 that I realised that the term used in the US was "line". Thus, the question changed to "Are you in the line?" as opposed to "Are you queuing up?"
This picture is possibly the most interesting picture I have. It was taken during the orientation briefing session for the international delegates. You have 3 national commanders obediently seated right in front in the heat of the day. The rest of the contingent, who came later, sat in the refuge of the bushes.
~Mark Sng – Singapore~
pppp
My most memorable experience at Camporama?
Well, one of my top few was my volunteer shift at the Deaverton Snack Bar. I was the only international delegate there, as the rest were from all over America. As soon as I introduced myself I was made very welcome (despite there being a big line for food!).
I had been feeling exhausted that day, but decided that I had one chance to do Australia proud during my shift, so I went all out and made sure it was a shift we'd all enjoy reminiscing! At first, I felt like I was stepping into a very serious 'let's do this & get the job done' atmosphere, but that would change very quickly! After we'd all met & made a few jokes, the atmosphere felt much lighter. They were all interested in me and Australia, and I had plenty of questions for them! So we all chatted while we worked, learning all kinds of things, sharing many jokes and funny stories. At one point, there was no line up so I got everyone's attention, and burst out singing 'if you're happy and you know it'! Everyone joined in straight away & we sang about 3 verses, with everyone outside either joining in or looking incredibly confused!
After my shift was over, the lady in charge drove me to the Green Pavilion for lunch. I didn't expect it, but on the way, her face lit up as she thanked me for everything I had done; she went on to say how my shift was the most fun she'd had at camp and that I had brightened everyone's day by being so out there and bubbly - especially with the random song! When we parted ways, she gave me a huge hug and thanked me again.
I really hadn't expected my choice of attitude to have such a big impact during a supposedly standard 4 hour volunteer shift, but I am so glad I made that decision, because not only did I leave feeling better and happier than I had felt since arriving at Camporama, but everyone serving in that shift went away light-hearted, smiling & happy, with a silly song stuck in their head and a fun, positive experience shared with an Aussie girl!

Funny cultural differences between Australia and the USA?
I'll put down a few quotes/questions I was asked while we were at camp, though they might not be as entertaining to everyone as they were to us Aussie's :)
1. So you live in Queensland... I know someone who lives in Perth. Is Perth far from where you live?
(Taking the shorter route, it's over 3000 miles to get from Townsville to Perth, as they're diagonally opposite!)
2. Does it snow in Australia? (asked by 2 different people - we have some incredible ski resorts in Australia!)
3. I can't believe I've actually met a real Australian girl! (To which I replied "Yeah mate, we're not mythical creatures!")
4. Mum, Richard and I had a bit of a laugh when we heard that the menu for lunch one day was 'sloppy joes', as a 'sloppy joe' in Australia is a knitted sweater, or a pullover!

Short testimony of something God did at Camporama?
The night services really were very special, and each message was extremely relevant and important for the boys and young men to hear.
It was the Wednesday evening service - the night Jim Allen gave his testimony.
During the worship, I could feel something different in the atmosphere; God was already moving. Then during Jim's testimony, I felt the Holy Spirit prompting me, so started praying for all my brothers in Christ there.
After they had responded to the alter call, the praise and worship resumed. Then, out of the blue, Emma (from Iceland) came and prayed for me. Once again, the Holy Spirit prompted me and I told her what we needed to do.
She agreed, and we then spent the next while holding hands, joined in prayer, and standing in the gap for all our brothers in Christ. We both knew it was something we had to do then and there, and as we obeyed, I really felt God moving, touching, and changing the lives of each of those boys and men.
~Jenni Saltmiras – Australia~
Pues si, tengo una historia que contar, nuestra aventura inicio en El Salvador. Nuestro vuelo se retraso aquí y por ese motivo perdimos la escala en Dallas, aunque sufrimos el retraso en Dallas de 4 horas, podemos decir que valió la pena. Uno a uno comenzamos a ver Rangers de muchas partes del mundo, tanto conocidos como nuevos compañeros para nosotros, viendo esa terminal llena de una gran variedad de emblemas y uniformes; con diferentes banderas y diferentes lenguas pero unidos bajo una promesa y bajo una hermandad. Nuestro avión hacia Springfield iba literalmente lleno de Rangers, es algo que de seguro me lo llevare entre mis mejores recuerdos para toda la vida. Llegamos a Springfield y una vez ahí, la emoción de estar en la cuna del Ranger se hizo sentir en todo el avión. Bajamos del avión y lo primero que vimos fueron los banners con los emblemas en la terminal, y el asombroso servicio que nos prestaron. Nuestro viaje hacia Eagle Rock, llevaba a personas de Guatemala, México, Singapur, Rusia y El Salvador. Todo fue muy bonito, gracias a Alan y su esposa, a la familia Kinney, a todo el personal del staff, a los voluntarios, a los Rangers de USA, a Douglas y su esposa, a quienes patrocinaron todo... en fin a todos muchas gracias y en especial a Dios, por permitirnos la aventura mas memorable que nos llevaremos por el resto de nuestras vidas Dios les bendiga y siga enriqueciendo este gran ministerio...
y como decimos aquí... Exploradores del Rey, un estilo de vida.
Yes, I have a story to share. Our adventure began in El Salvador. Our flight was delayed here and because of this we missed our connecting flight in Dallas. Despite the 4 hour delay in Dallas, we can say that it was worth it. One by one, we began to see Rangers from many parts of the world, both old and new friends for us, filling the terminal with a wide variety of emblems and uniforms with different flags and different languages but united under one promise and one brotherhood. Our flight to Springfield was literally filled with Rangers; it is something that I am sure I will carry with me as one of my best memories for my whole life. We arrived to Springfield, and once there the emotion of being in the birthplace of Rangers was felt by all on the plane. We disembarked from the plane and the first thing we saw were the banners with the emblems in the terminal and the astonishing service that was given to us. Our trip to Eagle Rock carried people from Guatemala, Mexico, Singapore, Russia, and El Salvador. Everything was so nice, thanks to Alan & his wife, the Kinney Family, to all the staff, the volunteers, the USA Royal Rangers, to Doug & his wife, to those that hosted everything. Finally, thank you to everyone, and especially God for permitting us the most memorable adventure that we will carry with us for the rest of our lives. God bless you and continue enriching this great ministry…
As we say here… Royal Rangers – a way of life.